Joesph Large landed the Dream Job opportunity as the Photographer for The Clymb in Peru. He's an example to us all of following your dreams with persistence and faith in oneself. He had an epic, transformational journey during his dream job experience, and we are delighted to share it with you all. From meeting interesting people from all walks of life, seeing unbelievable sights and ancient ruins, trying exotic foods, and accomplishing new goals- this trip to Peru was one he will never forget.
1. Hi Joe! BIG CONGRATS on being the Photographer for the Clymb! Before we talk about this incredible experience, can you tell me a little bit about your background and where it is that you currently call home?
Thanks so much! For sure. I'm originally from Philly, but I've been based in and out of Breckenridge, Colorado for the last fourteen years. I've been to 46 out of the 50 states, and I've gotta say that coming home to Colorado after being out on tour shooting with a band, or returning from shooting internationally is one of the best feelings. I love this place!
2. Why did you decide to apply for the Dream Job to be a Photographer with The Clymb in Peru?
I actually originally applied for the Norway Dream Job with you guys the year prior. A friend of mine hit me up the day before the applications closed and told me about the gig. I submitted, not thinking I had any chance since the other applicants were months ahead of me in the voting process. I ended up coming in 12th place based on votes. Since I was one of the top 20 contestants I was offered an interview with the fine people over at VisitNorway.com. Unfortunately, I didn't get the gig, but it was still a great experience.
A few days after the winner Arnold Lan (who is now a good friend of mine) was announced, Lisa (one of the founders of Dreamjobbing) personally called me. She said that my story had touched a lot of people in the office, and that there were going to be more photo gigs down the road. She strongly encouraged me to apply when they came up.
Fast forward a year…. SIX photography dream jobs came up all at once on DreamJobbing with TheClymb.com. I was super stoked when I saw the e-mail and immediately applied for them all. After three rounds of voting I ended up in first place for four of the gigs, and second and third place for the fifth and sixth gig. I couldn't believe it! I guess the rest is history from there.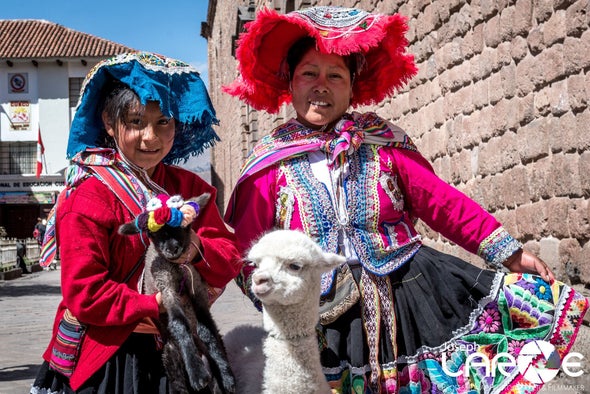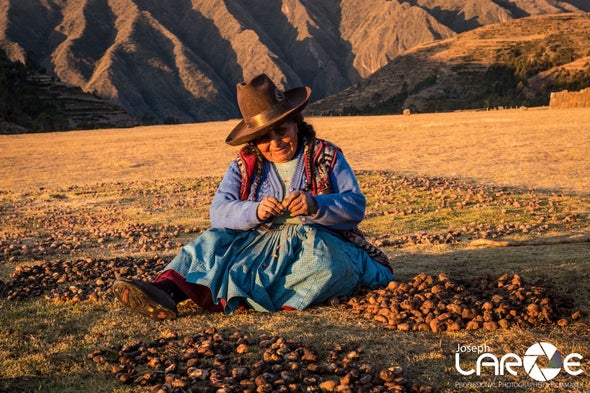 3. Why are you passionate about photography? Where did this come from?
I've always loved shooting photos and film for as long as I can remember. I used to setup my GI Joe's in the back yard and take pictures of them with my dad's Polaroid camera. Let's just say he was less than stoked whenever he found out that all of his film had been used up on pictures of my toys! As I got a little older my friends and I would always mess around with my one buddy's mom's VHS-C camcorder filming ourselves skating and doing stupid stunts and what not. I kept that up all the way throughout college, and ended up adding shooting snowboarding to the mix.
I eventually left the east coast and started my first film company "Propaganda Films" when I moved to Breckenridge, Colorado in 2003. I had some small success with it, having some footage featured on local TV, as well as shooting for some local companies. It was fun, but it definitely wasn't paying the bills by any means. Fast forward to the advent of FPV cameras and immediately "everyone becomes a filmmaker". Many people started naysaying what I was doing with my life pursuing film as a career, so I eventually listened to them and quit.
In 2010, my mom passed away of Breast Cancer. That definitely flipped a switch in my head. Right then I realized life is too short to not be doing what you love. I was working an IT job in Philly (I had moved home to help take care of her while she was on hospice) and hated it. After my mom passed, I ended up hanging out with my dad for close to a year, saving up all of my money, and buying my first DSLR, a Nikon D7000. My dad knew I was miserable living in Philly and encouraged me to make the move back out to Colorado. I ended moving back to Breck and fully committing to living the job and life of my dreams. Three years later, my dad unexpectedly passed away. His passing just reaffirmed the choice I had made. Life's too short... DO WHAT YOU LOVE!
4. Tell us a little about your experience in Peru! Give us a glimpse into what this experience was like:
Oh man…. I don't even know where to start! The beginning of the trip was SUPER stressful. My bags got lost, and I didn't end up getting them until about 4 or so hours before I had to leave for the trek. All I had with me until I got them was the majority of my camera gear, and the clothes on my back. I thought I was going to have to buy all new hiking gear: poles, boots, bag, outwear, base layers, etc… I definitely wasn't looking forward to hiking 30 miles in brand new hiking boots.
As soon as I got my bags, I had to unpack and repack everything that I was taking on the trek with me. I ended up going to bed at 1AM and getting up at 3AM to start the trek. Hiking close to ten miles with a 50-60lb bag of camera gear on two hours of sleep isn't the most ideal situation. As soon as we got to camp we ate dinner and I passed out immediately. I don't even remember if I did a self-interview that night.
Once I caught up on sleep I was good to go. The next few days of the trek were awesome! A few members of the group had some issues with altitude sickness, but fortunately living in the Rocky Mountains at 10,000ft had prepared me. Living in Breck, I see people's vacations get ruined by the altitude sickness all the time. Chewing coco leaves and charcoal definitely seemed to help them out and they pressed on. I chewed the coco leaves as well, (peer pressure maybe?) and it was a pretty cool experience. We were super fortunate as a group to have two amazing guides Caludio and Rolland. These guys were totally top notch; I'm talking cream of the crop! They were both super knowledgeable and had great senses of humor. Rolland ended up hanging back with me the entire time on the first day when I was in full on zombie mode making sure I was alright.
The 13 porters and two chefs were awesome as well. These guys were literally setting up a city for us every day of the trip. They would leave camp after us, run to the next spot carrying all our tents, gear, food, water, and cooking equipment/utensils and be completely setup with a meal made by the time we got there. It was unbelievable. #BEASTMODE Can I use a hashtag in an interview? Does that work? I don't know, whatever. I did it.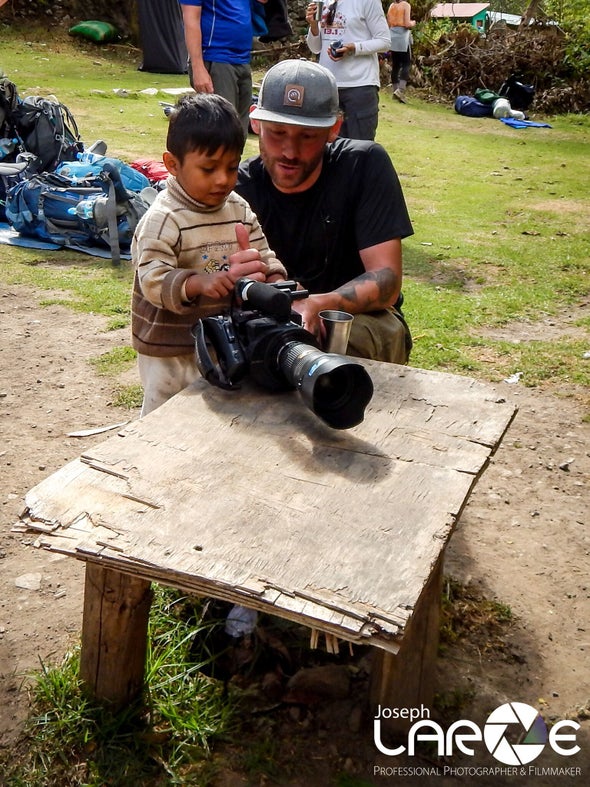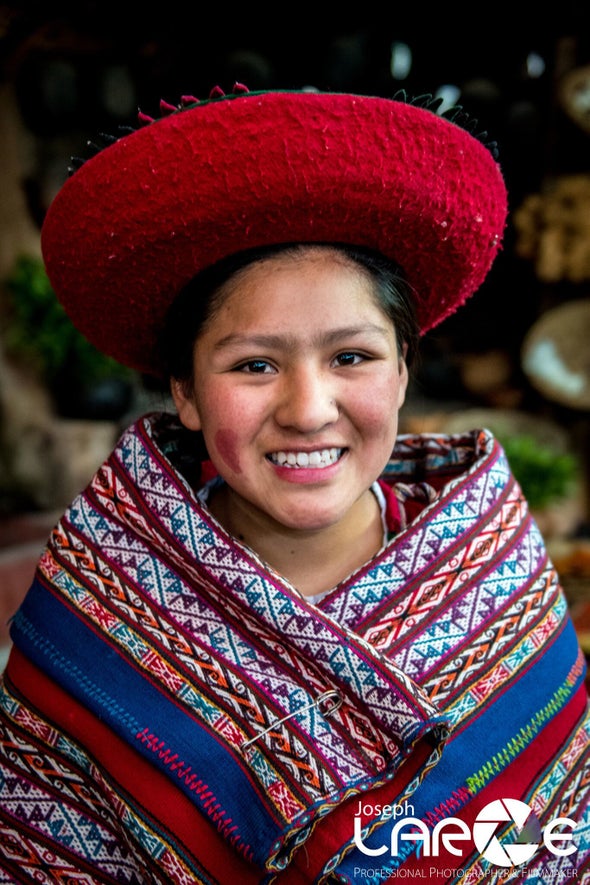 5. What is your favorite memory from the trip?
My favorite memory… that's an easy one. It was something that was super special to me and I'll never forget it. There were nine people total in my group. Three sets of married couples, two girls that were best friends, and myself. I was the only single person in the group. At the end of the days after dinner we would all usually retire to our tents. Everyone else would chat about the day's events, good or bad, have some laughs, then eventually fall asleep. Being that I was alone, I would just go back to my tent, do a self-interview, and go to bed. It was kind of lonely.
On the second day of the trek I ended up totally destroying my Nikon D610 camera body. It was the only full frame camera that I had with me, and I was still planning on visiting Chile and Argentina after Peru, so I was super bummed.
When we got back to camp that night Claudio told me to stay around after dinner and not go right to bed. He and Rolland invited me into the cooking tent to hang out with a few porters, the sous chef, and the main chef. Claudio and Rolland were the only ones that spoke English, so they ended up translating between everyone (I took a Spanish class prior to the trip, but probably only retained about 50% of it).
I ended up staying up with them shooting the breeze and enjoying some Man Punch for quite some time. For anyone that doesn't know (myself included prior to this trip) Man Punch is a mix of tea, rum, and all of the fresh fruit the guys picked along the Inca Trail. It is quite delicious… probably too delicious sometimes! Nonetheless, that was definitely my favorite memory from the trek. The guys knew I was super bummed, and they totally cheered me up. By the time I went to bed, I wasn't even thinking about the $2000 camera body that I had completely destroyed earlier that day.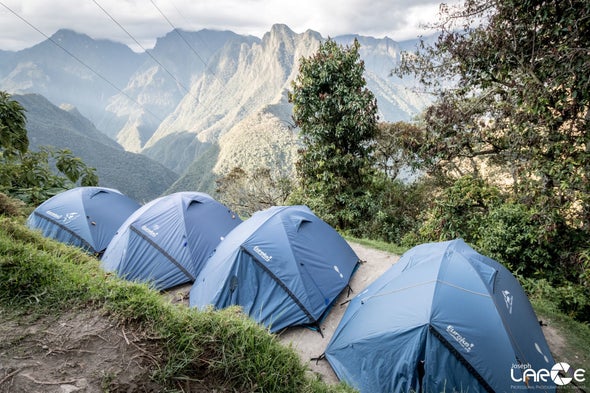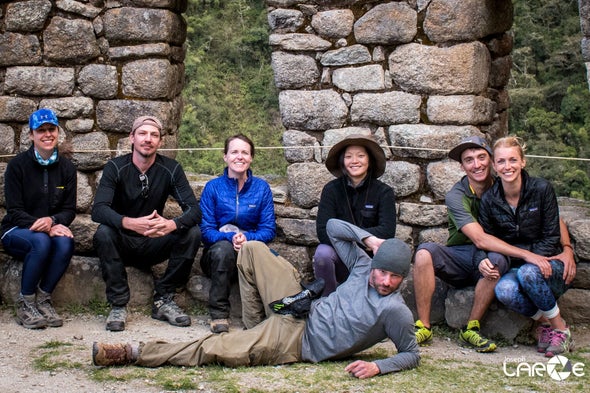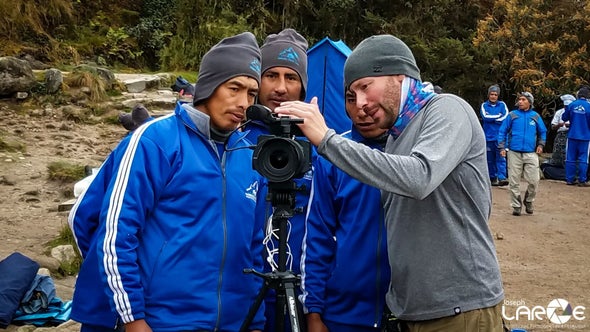 6. Any travel tips for adventurers heading to Peru?
1.) EAT EAT EAT!!!! Peru has some of the best food that I've ever had abroad. Plus it is super affordable. Alpaca is amazing (if you don't mind gamey tasting meat). Try to avoid tomatoes (trust me I speak from personal experience). Give Pisco sours a try (if you're of legal drinking age of course). I was told they tasted like tequila prior to going (I despise tequila), so I was a little hesitant to trying them. I gave it a go and was pleasantly surprised. They were pretty good.
2.) If you are planning on doing the trek along the Inca Trail and have time prior to doing so, check out Cusco and the surrounding areas (The Sacred Valley). I highly recommend taking a guided city tour with Valencia Travel. We did this prior to the hike and it was awesome. I shot some of my favorite footage from the trip before I even got to Machu Picchu. If you do book it through Valencia, see if you can request Alex as your guide. He ROCKS SOCKS!
3.) PACK LIGHT. I was responsible for shooting photos, film, and time lapses, so I had all sorts of different gear with me. Waaaaaay too much probably, but I'd rather not think "Oh man I wish I had brought this piece of gear so I could capture that specific shot". I used every piece of gear I had.
4.) Avoid the hot springs at Aguas Calienties. The Inca Trail hike takes four or five days to do. I don't remember seeing any showers along the way. After the trek you end up in the town of Aquas Calienties. TONS of people go to the hot springs (after not showering for four or five days). Nuff' said.
5.) Don't bother taking a drone with you. They are illegal to use on the Inca Trail, as well as at any of the ruins and at Machu Picchu. I was super bummed about this, because I had already visualized a bunch of shots that I wanted to get. I ended up leaving the bird at the hotel in Cusco.
6.) If you have large cameras or lenses, try to be discrete when filming or taking pictures. Make sure if you're questioned you tell them that you are just a hobbyist. I got scolded a few times for shooting video and photos while on the trek. You're also not allowed to take a tripod into Machu Picchu. Hide it in your bag if you can. I had a tripod as well as a two foot slider with me. I just covered them up with the rain fly for my pack and checked my bag when I got into the park.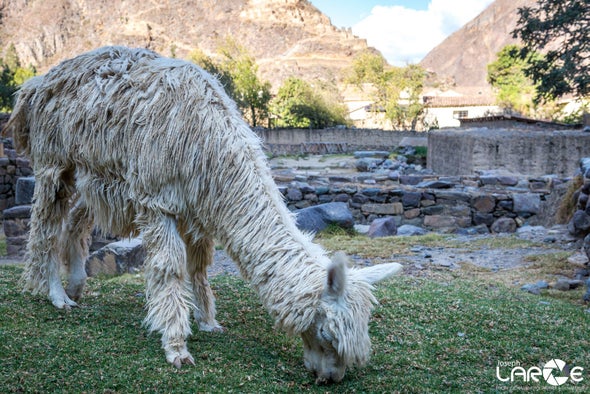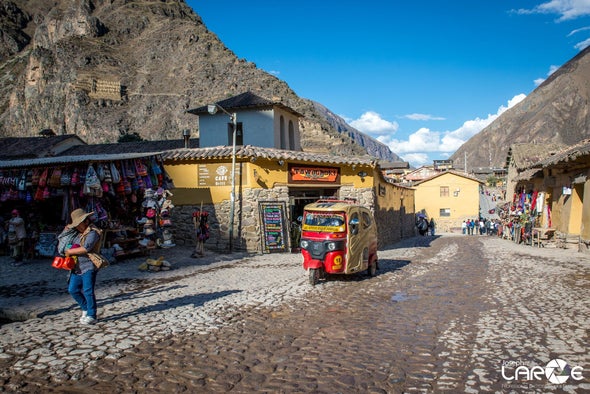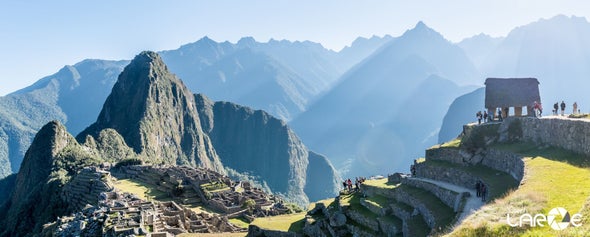 7. Did you experience change how you feel about your life and career going forward?
It didn't really change the way I felt about my life or career, it just reinforced that I'm doing the right thing, and heading in the right direction.
8. Do you have any advice for people who might be nervous to pursue their Dream Job?
DO IT! Save up some money, and quit your day job. Follow your dreams. Don't let the fear of not having enough money stop you. If you love what you're doing, and you're somewhat good at it, the money will eventually come. It will be a rough road to start but one million percent worth it. NEVER GIVE UP!
9. What's next?
Currently, I'm in the middle of my third round of interviews with an organization that sends volunteer photographers and filmmakers to less fortunate countries to ensure that grassroots initiatives get the attention they deserve to create social and/or environmental change. If accepted I'll be traveling around the world helping people and organizations with my camera by bringing certain issues and challenges to light. Some pretty major media outlets use this organization to pull content from, so hopefully you'll be seeing some of my work coming to headlines near you!
I just wanted to take a second to say thank you to both Dreamjobbing.com and the TheClymb.com. This was truly the trip of a lifetime. I met some amazing people, ate some amazing things, and saw some awesome sights.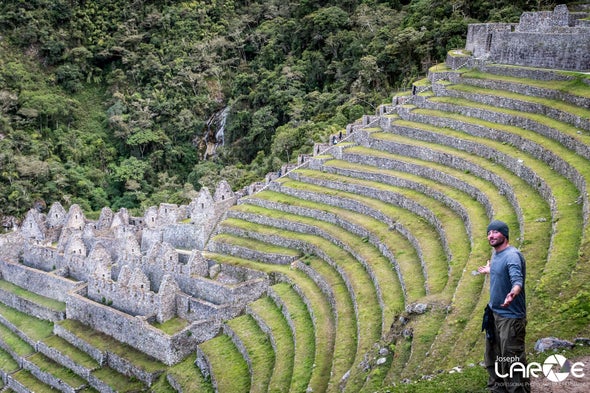 I also want to take a moment to thank everyone who watched my application videos, shared them, and voted for me, for both the Visit Norway Dream Job as well as for TheClymb Dream Jobs. I couldn't have done it without all of your support. I hope you enjoy the content I was able to create while not only in Peru, but in Chile, and Argentina as well. So much love to you all!!! If anyone who reads this is interested in keeping up with where I'm at, and what I'm doing you can follow me on Instagram, Facebook, and Twitter, or check out my website. Thanks so much guys… YOU ROCK SOCKS!!!!