Chuck Knapp leads the nonprofit Job's for America's Graduates in Kansas (JAG-K). We have truly been amazed at the work JAG does, as they partner with students facing multiple barriers to success and empower them to achieve their overlooked potential. The organization does outstanding work both in and outside of the classroom.
Upon meeting Chuck, we immediately were drawn to his ability to listen, his passion for helping students, and his natural leadership. Many readers in our community are dreaming of becoming nonprofit leaders, so I asked Chuck about his path and advice for our readers hoping to achieve a fulfilling life in service. His journey is both interesting and inspiring as he reminded me to focus on what matters in order to succeed.
1. To start, could you tell me about your background and what you are doing now? What was your childhood dream?
My childhood dream changed a lot, which happens with our students. When I was young, I thought I wanted to be a missionary. As a high school junior, I thought I wanted to be an attorney. Finally, in my senior year of high school, my dream was to be the next David Letterman.
I went to college and entered the radio, TV, and film program and ultimately graduated with a degree in Theatre and Media Arts. My first job was in radio, but I relatively quickly decided that I really preferred face-to-face communication. After radio, I entered the nonprofit world working for the American Red Cross for a short period of time. I've had 23 jobs since college, usually in the same field. I got bored a lot early on and hadn't really found my dream job. I moved to Florida and worked at Disney World for a summer and then back to Kansas. In 1990, I had a chance to work for our congressman in an 8-month position, and I ended up loving the service aspect of the job. I was fortunate to get hired by the next congressman, and that was my real entry into government and politics at both the federal and state levels. In addition to government service in various roles, including communications director and chief of staff, I managed numerous political campaigns. I also worked in the private sector a few times in marketing and operations roles. Ultimately, I finally discovered that it wasn't really identifying the job that was most important – it is the calling. And my calling was service.
I had heard about JAG while serving in a senior state government position and was aware of the impressive statistics. However, it wasn't until I actually visited a classroom and heard a student profess that JAG had saved his life that I fully understood and appreciated the impact of JAG. When I was asked to apply for the position of President/CEO of JAG-K, I jumped at the chance because I loved the mission and thought it would be a great opportunity to have a small role in helping students as well as leading an organization that was making a measurable difference in people's lives.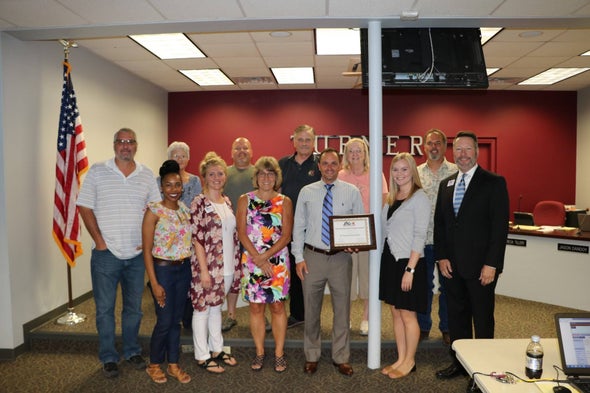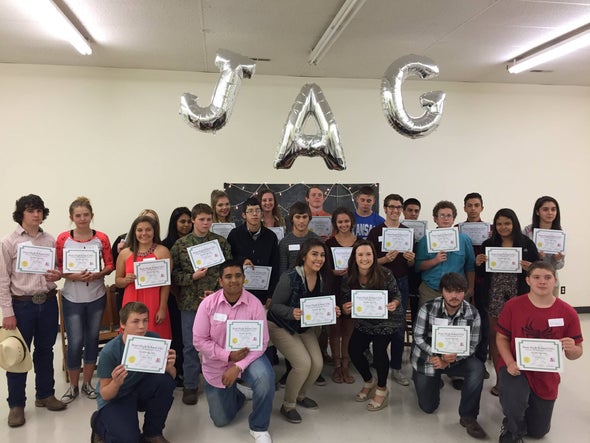 JAG-K dedicated staff and students in Kansas.

2. What was one of the greatest lessons you learned early in your career that has helped you succeed today?
It's a simple lesson I learned early in life, back in Sunday school: love people and treat them the way you want to be treated. That has been my key to success in any job. When I worked in politics, I always kind of relished the fact that I had friends and colleagues on both sides of the political aisle. I tried to always put myself in their position. Generally speaking, if you can focus on the golden rule, treating others like they want to be treated, success will follow. It may seem trivial or basic, but it is truly transformational in any kind of relationship to live by this rule.
3. What has been the biggest challenge in your line of work? And how did you overcome it?
Increasing awareness of what we do. A lot of nonprofits would say funding, and that's always something we deal with as well. But letting people know that we are here, that we are a successful solution to helping those students facing multiple barriers, is our biggest challenge to date.
4. Many of our readers in our community are interested in working for an impactful nonprofit, what do you think it takes to be a successful leader of one?
The most important thing is to have a passion for your mission and calling. That goes for everyone involved. Many people have asked me what degree are you looking for when hiring? It's not necessarily all about a degree or training, but whether you have an authentic passion for helping students succeed. Additionally, strong management skills are essential. Knowing how to relate to people and how to communicate with them will get you far. Treat people the way you want to be treated. We all have roles on this team, and it is imperative to acknowledge that everyone's successful execution of their role contributes to the success of the organization.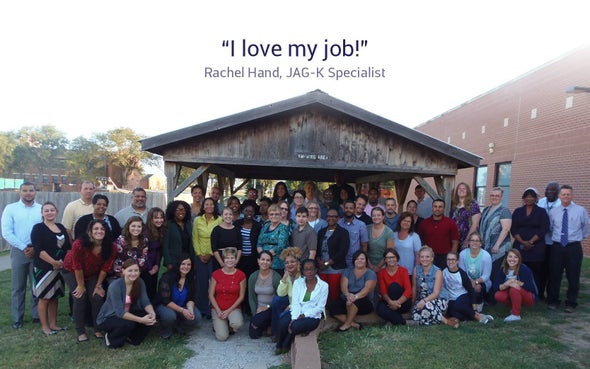 JAG-K Specialists- It takes passionate members on every level to make this nonprofit a success.

5. What is the best piece of career advice you have heard? Do you have any advice for our readers on creating their own opportunities and "dream jobs"?
When I was in college, I was manager of the KU's Women's basketball team. Marian Washington was the head coach and she told me, "Chuck if you can be flexible, you will be successful in life." You have to adapt to change. Adapt to new employees, new bosses, and new jobs. That advice has served me well. And if you love your neighbor and treat others the way you want to be treated, that's also going to help you be successful.
6. Do you have a favorite moment thus far working with JAG-K?
Most of my favorite moments are ones involving students. One of the moments I will never forget was going to Washington D.C. with 12 students, most of whom had never been out of their home county, and never thought in their wildest dreams they would get to visit the nation's capital. We attended the JAG national leadership awards. The students were amazed, and seeing them realize a dream was very cool. I have so many stories of students who have overcome pretty significant barriers; homelessness, low resources, tough backgrounds. Hearing their stories is inspiring and reminds you to be grateful for what you have. This is my first year with JAG and I do believe it is my dream job. Knowing what we do has an impact is incredibly rewarding.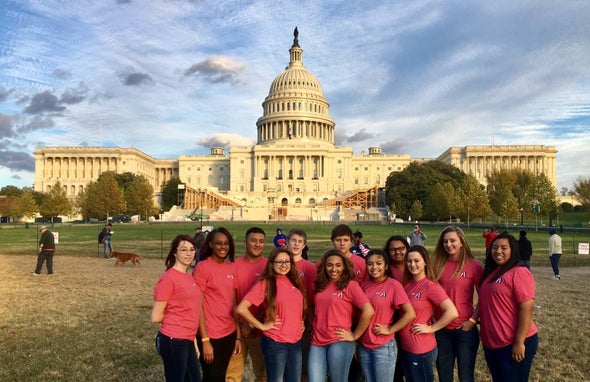 JAG-K students in Washington D.C. for the first time.

7. Who inspires you and why?
My high school football coach was an inspiration. I was not a great athlete, but I really wanted to be on the football team. One day, my coach gave me a poem entitled The Benchwarmer. It was meant as encouragement. The poem was about knowing your role and striving for your best at all times, and how that will ultimately lead to success. That same hardworking benchwarmer is the one that becomes the corporate CEO and the leader. When I went out for football as a sophomore, I was the slowest receiver on the team, but I worked hard and I understood my role. I was finally rewarded with some playing time and able to make an impact on games. This coach didn't give up on me, and I didn't give up on myself. If I didn't get to start, I still felt good about myself and what I was doing. It's not always about who starts but about how you approach practice and handle yourself in the locker room.
My dad was also an inspiration because he worked really hard and never complained. He was a farmer and a plumber, and he instilled a strong work ethic in me. He taught me to keep moving forward, enjoy family, and be grateful for what you have.
8. What is one thing you wish the larger community knew about JAG?
That we exist. And that students who some people think have no potential actually may have the greatest potential – we just have to help them realize it.
9. Three words that define a great leader:
Compassionate, Listener, and Visionary. You need to be able to see the whole picture. So many people get focused on what's right before them, but you've got to be able to see all the pieces on the chess board, and anticipate what's to come.
Chuck reminded me the importance of working with heart, compassion, and a true caring for others. He also illustrates that our career paths are not linear perfect lines, but journeys full of different twists and turns. For more on JAG Kansas, visit DreamJobbing/Kansas or JAG Kansas.