Erik is an extraordinary human. He is an adventurer, author, activist and motivational speaker, and the only blind person to reach the summit of Mount Everest. Our founder Lisa met Erik while Executive Producing Expedition Impossible - an adventure TV series for ABC. She recalls witnessing him kayak and ride horses and camels blind as nothing short of remarkable. He is true inspiration to us all as he reminds us that anything is possible. In September of 2014, Erik and blind Navy veteran Lonnie Bedwell kayaked the entire 277 miles of the Grand Canyon on the Colorado River, considered one of the most formidable whitewater venues in the world. It is an honor to interview him and shine a bright light on his incredible story.

Erik's nonprofit organization, No Barriers, has a mission to unleash the potential of the human spirit. Their goal is to help people embark on a quest to contribute their absolute best to the world through transformative experiences, tools, and inspiration. Erik and his team have fostered a community of curious, brave, and collaborative explorers determined to live the no barriers way of life.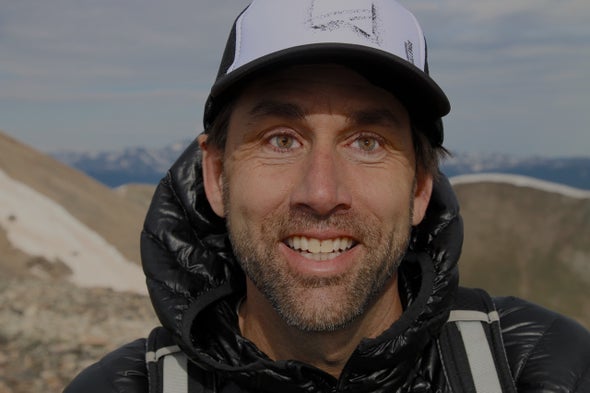 1. What do you do for a living?
I make my living as a blind adventurer. Before that, I was a teacher for six years and I loved it. I could have done it forever, but then in 1997, I realized I wanted to climb mountains. So I left teaching and I've been adventuring ever since. Its a pretty bizarre, fun career. I've made some beautiful films, participated in endorsements, written books, and connected with fascinating, inspiring people from all walks of life.
2. Let's start big. What was it like summiting Mount Everest?
I trained for this summit for years. The biggest part of the process was actually talking about it out loud for the first time, speaking the words- I'd like to do this. It then took two years of intense training. Not just physical training, but also mental training; going up Colorado peaks and training my mind to suffer. I also had to learn new skills and systems. You have to have systems that help you flourish up there, like how to take your harness on and off and organize your pack.
I then spent two months on the mountain itself. It was challenging, painful, full of suffering, and also full of awe. It was incredible. You find yourself at 29,000 feet on an island the size of a car garage. You find yourself thinking your body is here, but your brain isn't.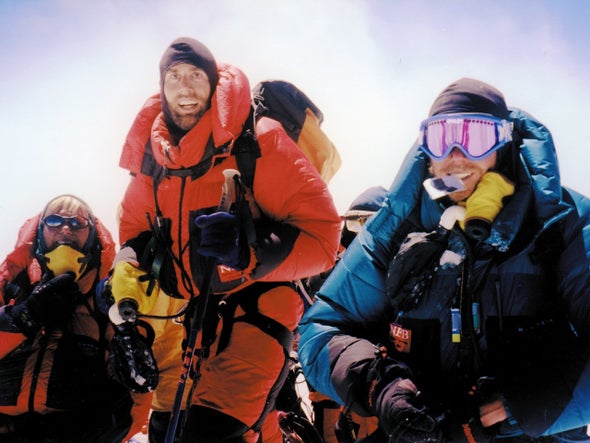 3. How many times did you think, what am I doing- this is crazy?
100x a day. And I'm not an anomaly, this is the normal human experience. The Sherpas on Mount Everest have a saying for this, they say the nature of mind is like water. What that means is at some point, when you're doing something big, like Everest, or starting a business or whatever, your mind can weigh you down. When you're embarking on something monumental, there's always a planning process and what if questions you need to go through- but then at some point the what ifs start to sabotage you and distract your brain. You have to let yourself let all that muddy stuff go, you have to keep your mind free from the mud. There's a point where its not helping you anymore, its just an extra layer of weight paralyzing you. I experienced this summiting Mount Everest, and I continue to see this in every day life.
4. What motivates you to accomplish so many extraordinary achievements?
When I went blind, It was about a week before my freshmen year in high school, I remember being led into school and sitting in the cafeteria and listening to all the laughs and food fights pass me by. I will never forget this moment. I hated that the fact that I was trapped in this kind of prison. It was terrifying. Not that I was blind, but feeling trapped and isolated in some sort of prison like state. I was afraid. I remember thinking, I don't know if you get one life or not, but my life is going to be sitting inside this prison forever. For many of us, we have a fear of being in that prison, but then we have an equal fear of reaching out and trying new things that leads you to great places. There's fear no matter how you slice it, so you might as well as go for the fear that leads you somewhere.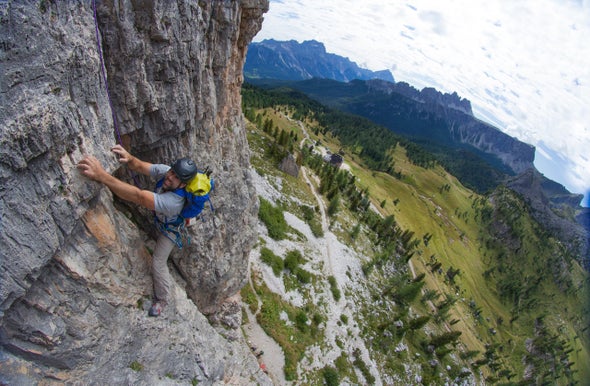 5. Tell me about your newest book No Barriers? What is this book about and what motivated you to write it?
At first I didn't want to write a book, but then I thought, this movement that we are building No Barriers, has stories that need to be shared. A friend of mine is a paraplegic, the first paraplegic to climb El Capitan; he did 7,000 pull ups to get to the top. The other is a double amputee. We all met outside of Moab, Utah and climbed together. This friendship eventually grew into the community No Barriers. We are all in some way dreaming big and moving forward with our dreams. Yet barriers stop our energy, and even sometimes derail us, and now all the sudden you're stuck. We wanted to explore how do you create that map to keep moving forward and equip yourself for that journey?
No one is really creating or writing the seeds for this movement. This is a map that no one has ever adequately illuminated before. We often see the image of growth is the nice sweeping arch. But its not like that at all, growth is bloody and takes grit, with no pretty bow wrapped up at the end of the journey. So many things defied logic, so many things are counterintuitive. Kayaking the Grand Canyon as a blind person is more like riding a volcano spewing lava. Barriers pop up daily. There were things that almost broke me throughout the process. One of those moments you can read about in the book. It was a river down in Mexico, where a vortex swirled across the river. This vortex pulls you down and sucks your shoes off your feet. I found myself in one of these vortexes 9 feet deep, sucked down this massive toilet bowl, like almost as if an electric wire that had been frayed. You can hardly get back in your boat. In a way writing and reflecting on this barrier gave me the chance to understand how this process works- how do you keep moving forward? In that instance, I couldn't move forward, I couldn't get back in my boat. I actually had to start over. I went back to a man-made channel, a place where you can practice. I decided to go back to rebuild myself. In a situation like this, you're not getting through that trauma, you have to find another way, backwards or over it but just keep moving. It doesn't even matter if you have to go backwards to go forwards. You have to keep moving.
One of the consistent things I found through No Barriers, was that heroic real-life characters are willing to ride the storm of energy forward. While its not like the movies, there a kind of an energy that you ride and you've got to be willing to take that ride to the end.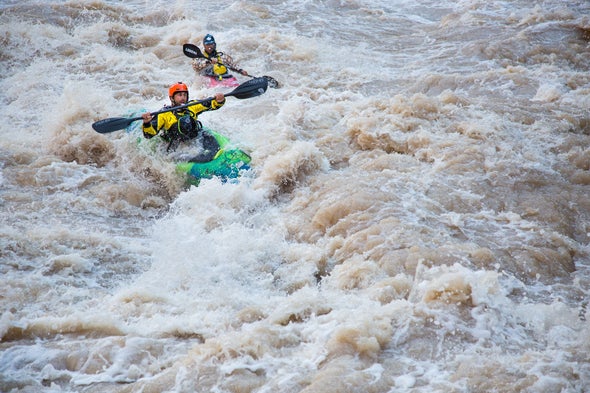 6. Who are some of the most inspirational people you've met while being part of No Barriers?
Mark Wellman, my friend who is a paraplegic mountain climber. He's made history by becoming the first paraplegic to climb El Capitan and Half Dome in Yosemite National Park. He has skied across the Sierra Nevada Mountains twice and recently circumnavigated Lake Tahoe via kayak. Another would be Paul Smith, one of the soldiers in our Veteran's program. He was blown up in Iraq which burned over 50% of his body. He wasn't ready to leave being part of a team and the shame of that sent his life into a downward spiral. He took part of our program and described feeling like he had awoken from a dream. We were a part of him waking up from that dream. He has now fulfilled three pledges and has climbed fourteeners addiction free. These are real people, not celebrities, just real people, falling and bleeding their way forward. Paul represents lots of people I write about, many people have invisible barriers that hold them back from living their best lives.
7. When was the last time you were scared?
Last week, I was skiing the Highland Bowl. It was pretty steep and 40 degrees, and there were moments where I was tumbling for 2,000 feet down a mountain. I had to keep reminding myself- keep it under control, this is not the time to panic, that will paralyze you, you know what to do, so go do it.
I worked with a guy who had severe PTSD. I told him courage is not a state of mind, its a decision that you keep reinforcing, you have to practice it like muscle. You have to practice courage, you have to train. You have to make a small decision of courage in your life every, single day.
8. What is your advice for young people to get past their fears?
Practice. I don't believe you conquer fear like it's depicted in the movies. Fear isn't something to be conquered, it's always there. Your reduce it, you push it, and you prepare to face it. If you prepare enough, and you build a great team around you, you develop that mental capacity and the systems that you need eventually so your fear can become minimized. It's almost like your fear is translated into a sense of awareness and a sense of focus. You find that sometimes when you dedicate yourself so much to the thing that scares you, that fear will eventually be replaced by this new awareness. You become really hyper focused on what you need to know in this experience. And when you are really focused, its a profound moment coming into a state of mind that goes beyond thinking.
9. What is the toughest thing you have ever done and why?
Going into these rapids blind. It was physically the toughest thing I have ever done. It was so different than climbing, where it was slow and methodical. Kayaking has no breaks, you're trying to ride these massive forces that are hitting you from all directions. I was just trying to navigate the river from what I'm hearing from my guide and feeling under my boat. That taught me a lot about this balancing act of what we all do in regards to how much we try to influence the direction of our lives. In kayaking, you have to influence the direction all you can, but sometimes you just have to let go and ride that storm. And it's crazy to ride that storm, it's not a peaceful ride, it's full of chaos- it's a storm!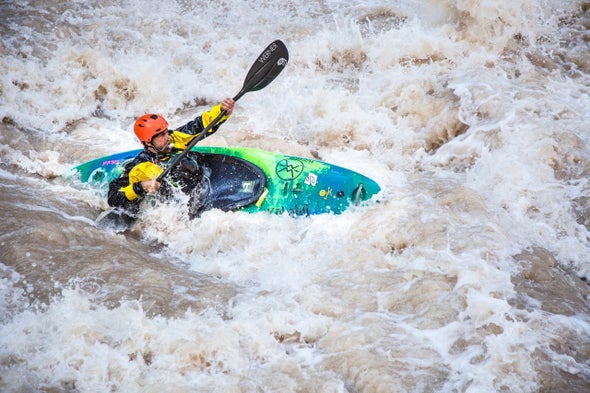 10. You've traveled all around the world, do you have a favorite place or memory?
Nepal. I have climbed a bunch of peaks, but adopting my son in Nepal changed my life forever. He's been a part of my family for eight years now. Nepal was in the midst of a civil war that was bubbling over and it was pretty wild adventure. Not a bad bargain to climb a bunch of peaks, and bring home a son.
11. What is your next big challenge?
It's been a pretty good 20 years of No Barriers, so to celebrate, I am going to try conquering one of the North faces. Europe has these six great North faces; big vertical walls of rock and ice. I would like to try to climb some this summer. Also, I am eager to face some big challenges in the nonphysical world, I'm not just looking for my next stunt. I want to continue growing No Barriers as a community and movement. This summer, we have an event with over 1,000 people in attendance. We spend four days talking about how to break barriers in our lives. There are speakers from all walks of life, from a guy who plays guitar with his toes to a quadriplegic race car driver to survivors of sexual trauma. It's a celebration and discussion of the tools, ideas, and inspiration needed to break out of the dark place and start living the lives we've imagined.
For me, adventure is about climbing whatever that mountain is in your way, and coming down with gifts that you earned. And then reflecting on how you elevate your community with those hard earned gifts.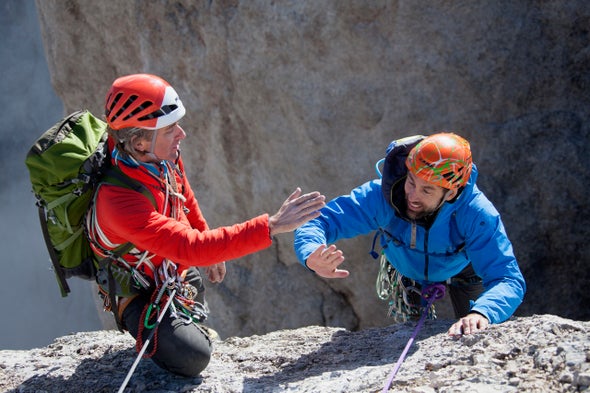 To learn more about Erik and his adventures, visit Touchthetop.com. His latest book No Barriers: A Blind Man's Journey to Kayak the Grand Canyon is available on Amazon or wherever books are sold.
Professional Photos taken by: (with corresponding numbers for the order of the photos) Luis Benitez (1,3), Skyler Williams (2), Manrico Dell' Agnola (4,7), James Q Martin(5,6)