Lee Schube serves as the Executive Director of the All Ways Up Foundation. She's full of optimism, passion, and speaks with intelligent poise.
The All Ways Up Foundation breathes authenticity and life, which obviously seeps and starts from their leadership after speaking with Lee. This foundation focuses on one of America's biggest challenges: helping students access and persist through college. We are thrilled to welcome them to our DreamJobbing community. Working in the nonprofit world consists of many different paths and unique roles, so read below if you want to know what it's like working as an executive director of an impactful foundation.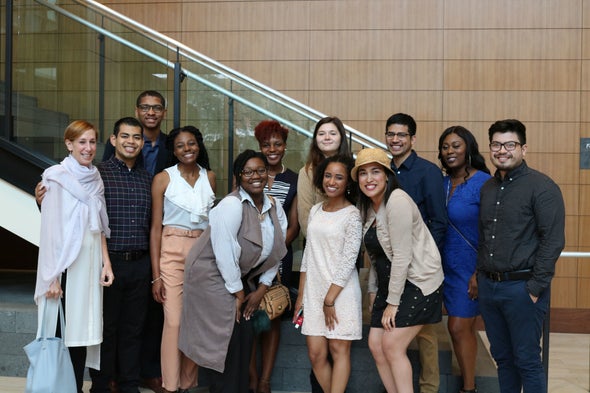 1. What do you do for a living?
I am the Executive Director of the All Ways Up Foundation, which means I oversee everything that happens at the Foundation. All Ways Up is a family foundation, so I spend a lot of time working with the family talking about their interests and the issues they would like to address. The primary focus of our work is to help low-income and first generation youth get into and through college. We do that in a variety of ways, including partnering with about 35 community based organizations. I manage the relationships with our nonprofit partners and connect with them as much as possible to lend support and encourage collaborations with each other. We also have a college scholarship program that supports 400 students each year. The students who are awarded scholarships are invited to one of our annual summits that bring together students from all over the country. The goal of the summits is to help ease the transition to college (this is my favorite part).
2. Did you always know you wanted to work as an executive director of a foundation? Can you tell me a little bit about your path?
It took me a very long time to get to this place. This is my dream job, but I didn't realize it until much later in my life. I did everything I was supposed to do-I attended college, obtained my degree, and went on to the next step. I was sparked by a few political science classes, so I spent a couple of years as a paralegal. I then went on to law school and then worked for a big, crazy firm in New York.
Eventually, another opportunity brought my family to LA where I served as the general counsel for the founder of a large beauty company. I didn't love my job and I wanted to spend more time with my two young sons, so I decided to take time off. When my sons were in middle school, I knew it was time to get back into the work force. It was all very serendipitous. I volunteered at a nonprofit and loved it. I soon joined the staff as a grants writer. After 4-5 years, I needed a change, so I went to another non-profit as the Director of Development. The more hats I tried on, the more I realized what fit best. After a short while, I went back to my old job and worked in communications, but knew that I needed to figure this out. Again, serendipity stepped in and over a casual lunch, everything started to fall into place! I was 56 when I got my dream job. I think what got me here was a mix of hard work, preparation, and being at the right place at the right time.
3. How has your background in law helped you succeed in this role?
Law school teaches you to think in a different way, and how to write. I have used those skills in every facet of my life since then, in the way that I approach things and problem solve. If you can write, that's more than half of the game. Law school was definitely great training for where I am now.
4. Can you tell us about All Ways Up in your own words?

We do a lot of things, but our focus is to help low income and first generation students get into and through college. There are lots of different ways we do it, but they all connect with the same goal of helping kids who wouldn't necessarily have had the opportunity if it wasn't for the work we are doing. We're just getting to the place where we are seeing our kids graduate college and it's incredibly exciting. We now want to be sure we help them become workforce ready.
5. What is your favorite part of your job?
Our summits. Preparing for and participating in the summits and getting to meet the kids makes everything we do worth it. During the Summits, you really get to know the kids and the counselors. I work closely with the counselors, and they are such extraordinary young men and women. I always leave feeling inspired and motivated (and exhausted).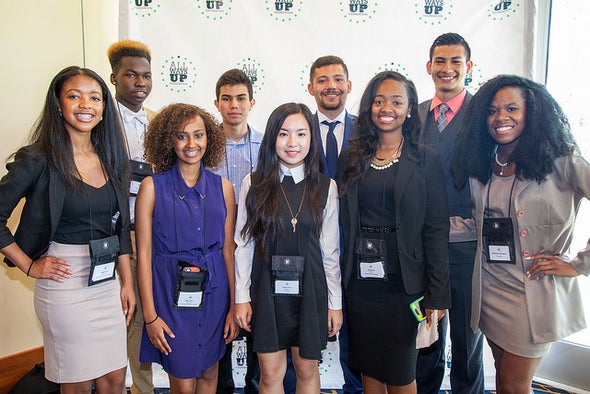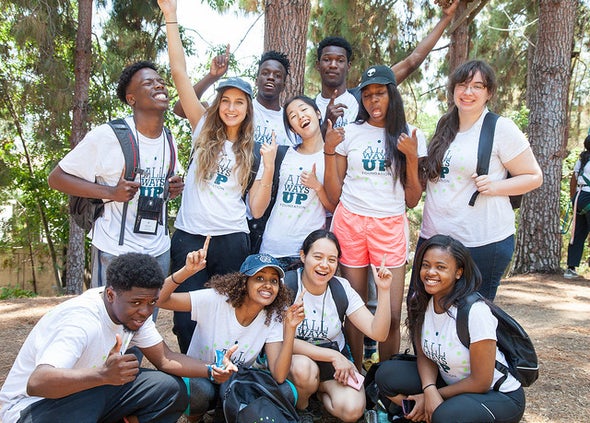 6. Is there a specific moment with All Ways Up that's really inspired you?

During one of last year's summits, the kids were split into three groups to prepare a presentation for our closing ceremony. The theme was: I was. I am. I will be. Each group took one of those phrases and worked together to create a performance; what they came up with was mind blowing. There were kids who were shy and didn't want to do it, but came out and performed brilliantly. These kids had only met four days earlier! Seeing them up there putting themselves out there and telling who they were was really powerful. It was raw, and I was truly amazed by each performance.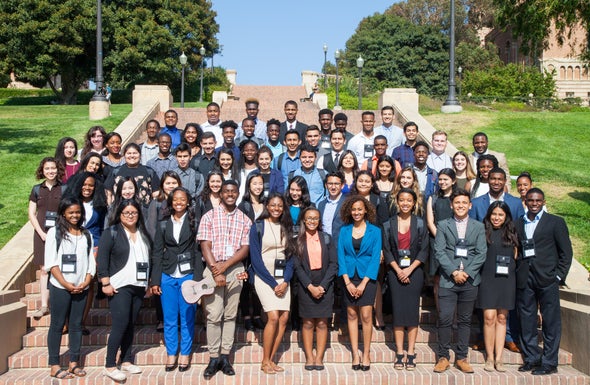 7. What is the most challenging part of your job, and how do you overcome it?

There is so much unmet need. It's extremely difficult to figure out how best to leverage the Foundation's resources. You have to say no to certain things. You can't do it all. We spend a lot of time figuring out where we want to put our focus and making sure our money is where it needs to be. You want to help everybody, but there is only so much to go around.
8. All Ways Up works with many other nonprofits, what do you think is the biggest challenge you see other nonprofits facing?
Money. Fundraising is always at the forefront, because our partners can't do their work without it. We focus on smaller grassroots organizations, because we understand how difficult this challenge can be. Another challenge I see many nonprofits currently facing is protecting and navigating the situations of their undocumented students.
9. What do you think is the most important skill or trait that has helped you succeed?
To be a good listener and a self-starter. These are things I've learned throughout my career. I came into All Ways Up with really no guidelines It was a bit daunting at the time, but ultimately, it allowed me to try out things and figure out what works and what doesn't. If there is a direction I want to go, I can do the proper research and propose it confidently. It has taken me a long time to learn the tools of being a successful self-starter.
At one of my other jobs, I had a boss who was the world's best listener. If you walked into his office he dropped everything to listen to you. I felt that I was important when I was in his office. He showed that he wanted to take the time and he cared about what I had to say. He was a great role model for me and I strive to embody those traits in my current role.
.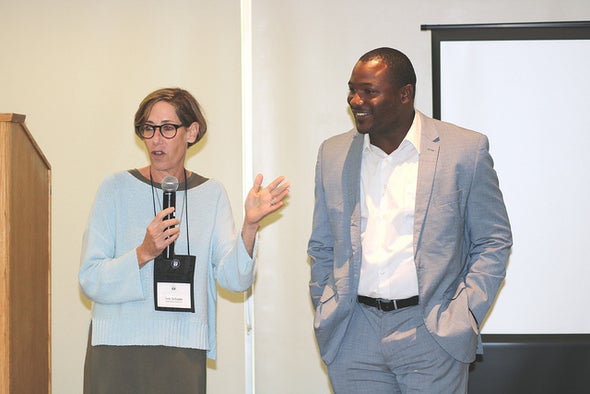 10. What is your advice for a young person trying to discover & achieve their dream job?

Your first job won't necessarily be your last job and doesn't have to be the best job. You need to take some time and try different things. There are lots of ways to do things that you think you want to do, but it might not end up being your dream job, and that's OKAY.
So many young people we work with think they have to know exactly what they want to do before college. Many of them want to jump right into work so they can help their families, but what happens is that many students find themselves stuck. You change during your time in college, you think differently and learn more about who you are. If it's possible, my advice would be to find internships and talk to people in different careers. Now is the time to learn as much as you can about the different careers available.
11. Three words that describe a great leader:
Empathetic, Strong, & Confident.
Thank you Lee for sharing your story with the DreamJobbing community. For more on the foundation, visit All Ways Up and the All Ways Up DreamJobbing Page.