Today on the DreamJobbing blog, we are showcasing motivational speaker and leader Kelly Merbler. Kelly has hosted students at her AppleOne offices in Florida for job shadow days and led incredible strength building workshops. She is a strong advocate for leadership and career development.
Kelly brings years of experience and contagious energy to everything she touches. Her goal is to continue to give students job shadowing opportunities as she grows her life coaching brand. Below is our interview together as Kelly shared with me the inspiration behind her current life path.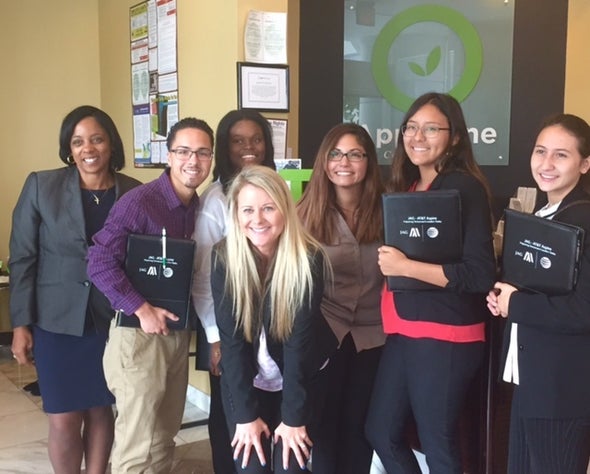 1. Could you give me some insight to your background? Where did you grow up? What were your childhood dreams? What were you doing before working at AppleOne?
I grew up in West Palm Beach, Florida. As a child, my dream was to be an equestrian rider or a news reporter. Clearly, that was not the path for me. I attended UCF in Orlando, and shortly after graduating landed my first corporate job at AppleOne. I am celebrating 21 years this year and have not worked anywhere else. Well, other than the Olive Garden, I was the door hostess at Olive Garden.
Interestingly, I was actually the first employee that AppleOne hired when expanding into Florida market. The company opened in Orlando back in 1996. I knew I wanted to be a part of a company that worked with developing people. I had studied advertising and public relations in college and had strongly considered copywriting or PR. I was always attracted to people, networking and branding. This was all very interesting and exciting to me- building relationships in a business setting. AppleOne was the piece that tied these interests together.
2. What is your motivation? What inspires you to get out of bed every morning?
For me, it is about living a life of significance versus success. This is something I speak about a lot. Many of us are living to be successful personally. But, I am living to be significant to the world. Living significantly has opened up so many opportunities and doors. Greeting each day with the mindset of living a life of purpose has changed my daily life.
3. What is the most challenging part of your career? What did you do to overcome these challenges?
The most challenging part of my career is knowing that you can't make everyone happy and that not everybody understands that growth is ongoing. I think people easily get settled in life. I try to surround myself with people that are like-minded and have the same sense of purpose and positivity. I have chosen to have an inner circle and mentors in my life. I've developed my personal board of directors, and they energize me. Surrounding yourself with people who want the best for you, believe in you, and encourage you to dream big and work hard towards those dreams has positively impacted my life and career goals.
4. What does your day to day look like in this type of career?
I am constantly moving. My daily life in this career consists of many late nights, networking, business building, and traveling. Becoming a leadership coach is an ongoing nonstop, 24/7 process. I spend weekends and early mornings reading, learning, writing, and creating new plans. It's tough, but it also fuels me because I am doing what I love.
5. What is your goal for yourself in the future?
My goal is to be a world renowned motivational speaker, best selling author, leadership coach, and to have a foundation one day that will help develop young women. I love when I am able to help others find a spark within them to take a risk and go after their goals....it fuels me. My niche is millennials and women, many of my followers right now are women in business. I love working with high school, college, and early career women
6. What is the best piece of career advice you have heard? Do you have any advice for our readers on creating their own opportunities and "dream jobs"?
Stop focusing on your weaknesses, and concentrate your efforts on what your talents are. I took a Gallup Strengthfinders assessment last year to help me understand what my top 5 talents were. I knew when I read my profile that this was something pretty amazing and I made the decision to pursue becoming a Gallup Strengths coach to my skillset. I personally grew and became more engaged when I understood what I did best and what I didn't. A lot of people focus on what they're not good at. Yet, I learned from many other leaders in the industry that there is value in putting your energy into what you are good at. Follow your strengths and talents and see where that takes you. You become so much happier and so much more engaged. Follow what pulls you rather than what forces you. Find out what your naturally good at, where do your talents lie, and find a path that will give you the ability to use those talents
7. We would love to hear about your experience with JAGS and DreamJobbing, what motivated you to get involved? Can you tell us about the experience having a student job shadow for a day? What did it entail?
My first experience was having a student named Destiny job shadow. This was very special to me after learning her story and working with her. Destiny came in and made me realize what I take for granted in life. This 17-year-old student made me understand that you can accomplish anything with hard work, passion, and dedication. Destiny came from a background of very few resources. As a 17-year-old girl, she worked at Taco bell to help pay the bills and save for college. We had so much fun together learning from each other, and since then have developed a mentor relationship. She continues to text me once a week, and makes me grateful for what I don't have as she reminds me to appreciate the little things in life.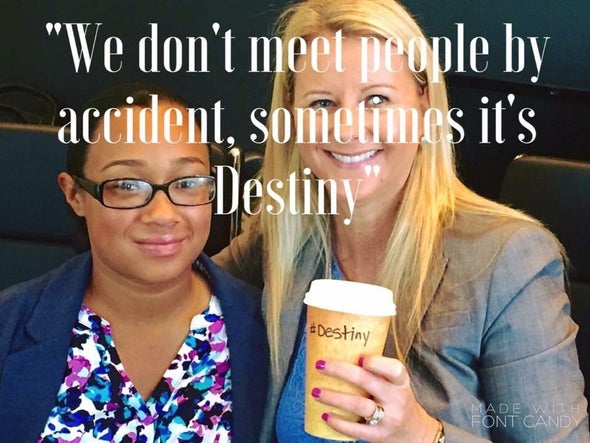 I think you need each other- the mentor and the mentee. Becoming Destiny's mentor has made me a better person. She's taught me just as much, if not more, as I have taught her.
8. Do you think "job shadowing" is important- and if so why?
No doubt. It exposes students to different situations that allows them to see if this career is truly the path they want to follow. The more opportunities one has like that, the easier it is to pin point what you would like to do.
9. Who is your inspiration?
John Maxwell. He's a motivational speaker, author, and one of the top leadership gurus in the world. He's actually a part of the reason I decided to start working with DreamJobbing. I was lost two years ago, not feeling like I had purpose yet knowing I had more to give. I was stuck. I heard John Maxwell speak at a leadership conference and then decided I wanted to find how to get him to mentor me. Somehow, I found the ability to get a letter into his hands through his executive assistant. Out of thousands of people, I then got a phone call! John called me personally and accepted the invitation to mentor me. Because he gave me one hour of his time, I decided to pay it forward. This one moment changed the course of my life, and I knew I had to pass it on. Destiny was a pay it forward- if he did that for me, I thought to myself, what I can do for someone else? This led me to DreamJobbing. I truly believe that things happen for a reason, and all of these moments were essential in steering my life path.
Kelly Merbler continues to develop young leaders throughout Florida. As we ended our conversation, she left me with this quote, "If you want to find your purpose, you have to lose it first". We couldn't agree more.
To learn more, visit Kelly's Facebook or her YouTube channel Kelly Merbler Mentor Series for leadership tips on personal growth. If you would like to book Kelly for your company's team building events or future speaking engagements please connect with her at: kellymerbler@johnmaxwellgroup.com