Meet Ingrid Silva, a Brazilian immigrant who moved her life to New York City to pursue her greatest dream. She's now a professional ballet dancer in the Dance Theatre of Harlem.
Ingrid's accomplishment list continues to grow as she breaks barriers, overcomes adversity, and shares her beautiful art with the world. From being the first African Brazilian on the cover of Pointe Magazine to being featured in Alicia Key's new #SheIsAKing campaign, Ingrid appears unstoppable. Not only is she a talented, strong dancer- she's also a hardworking, relatable, authentic individual. We excitedly asked Ingrid if we could interview her for our community of nonprofits and students to learn about the life of a professional ballet dancer. She didn't hesitate- she strongly believes that anyone can accomplish their dream if they work hard enough for it. Read our interview below to learn what it's like to have the dream job of a professional ballet dancer and what Ingrid believes takes to get there.
Watch this short film following the life journey of Ingrid Silva from the slums of Rio to the professional Ballet stage of New York City. INGRID SILVA // ACTIVIA from Ben Briand on Vimeo.
1. Thank you so much for sharing your story with our community. Before we get started, can you share with our readers where you grew up and what was your childhood dream?
I grew up in Benfica, a suburban neighborhood in Rio de Janeiro, Brazil. My childhood dream was to be a doctor or a professional swimmer.
2. What inspired you to start dancing?

My mom actually had us always involved in ballet. My brother and I started ballet together at the age of 8. She took us to an audition for this community dance program near our home, Dançando Para Não Dançar. I was accepted to the ballet studio and that was the beginning of dance becoming a part of my life.
3. You've overcome a lot of adversity on your journey and continue to break barriers. What was the biggest challenge you had to overcome? And how did you overcome it?

The biggest challenge I had to overcome was moving to New York at the age of 18 without speaking any English- all by myself, without my family. I came straight from Brazil to the Dance Theater of Harlem. I can say I overcame all of the barriers by having patience and perseverance.
4. What does a day in the life look like as a professional ballet dancer?
My day is very chill and relaxed, except when I'm dancing. I wake up at 9:30AM and make a cup of tea for myself. I don't like to dance on a full stomach, so I snack on some fruit or a smoothie on the way to work. After that I go to an 1:30h ballet class, have a 10min break, and then have rehearsal all day. It's very demanding physically. After a full day of work, I head home and I cook, relax and usually work on my personal projects.
5. Proudest moment?
I was the first African Brazilian on the cover of Pointe Magazine for June/July 2017. And I worked with Alicia Keys in November on her campaign #SheIsAKing. Both of these were very special moments that I will never forget.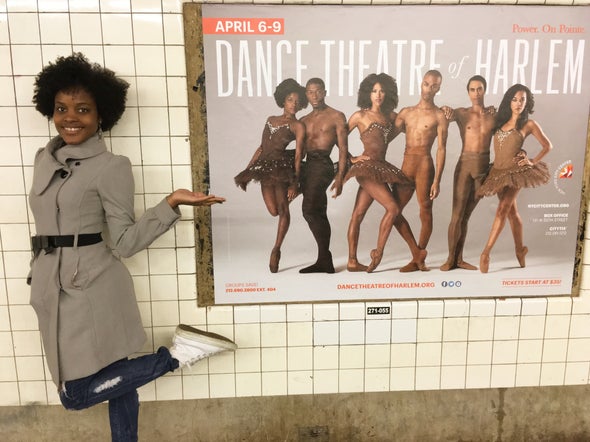 Photo by: Arquivo Pessoal

6. What have you learned about life or yourself through dance?
Dance can teach you so many things, especially in dealing with people and trusting them. There are countless times you dance with guys that will lift you over their head; these moves involve an enormous amount of trust. You have to allow yourself to let go. Dance also teaches you to look at the world in a different way. Overall, dance has taught me how to be a better human.
7. How do you overcome the emotional and physical strain? What's your main motivation?
I'm happy to be very well raised by a strong mother who has instilled in me confidence and a belief in myself. Like Brazilians say, I will raise my child to the world!
I've always been very focused on my goals, and I've always believed that if you work hard, you will reach what you want to accomplish. The emotional toll was really hard for me at first, I used to cry when I was younger about missing my family and home. But thanks to the Internet- my mom and I were able to talk a lot. I've received so much support from her. In regards to the physical strain, I've always placed my body first before anything. My body is my life and my job, and I try to take care of it very well.
8. Favorite music to dance to?

Classic or social dancing?! Well, I like Beyoncé, Alicia Keys, Maria Rita, Gregory Porter, John Legend. I'm very eclectic!
9. What's next? What's your goal for yourself in the future?

My dream and my next goal is to have my mom come and see me perform! I'm pretty happy with where my career has been taking me, I have no complaints, I just want to keep on working hard. The sky is the limit!
10. What would be your one piece of advice for young people looking to push past their fears and follow their dreams?

Believe in yourself. You're unique and that's what's special about you. No one is you and that's your superpower!
Thank you Ingrid for reminding us all that everyone has the power to change their story and follow their dreams. For more on Ingrid Silva, follow her social media account at @IngridSilva. And if you're dreaming of becoming a professional dancer- remember to take care of your body and don't delay, start working hard now and one day we may be featuring you on the DreamJobbing Blog!

Cover Photo Credit: Kimberly M. Wang