DreamJobbing has had the pleasure of working with the national organization Jobs for America's Graduates in our Helping Students Initiative. JAG (Job's for America's Graduates) is a state-based national non-profit organization dedicated to preparing talented kids to maximize opportunities as they move through the turbulent waters of middle school and as they learn to make real-world decisions in high school. JAG focuses on the important, often overlooked, subjects with youth in creative, thought-provoking ways.

This relationship and synergy was formed thanks to the powerhouse CEO of the Florida Endowment Foundation, Heather Beaven. The more you discover about this foundation and its multiple programs, the more you want to get involved. The foundation is a not-for-profit organization dedicated to providing support to students through critical transitions in their lives and careers. Heather Beaven is a social entrepreneur, consultant, speaker, author, and media personality. She speaks with passion, wisdom, and intelligence and is fueled by her dedication to the youth she works with. We spent an hour together talking about her background, motivations, and the work that she does. Read below for a fresh perspective from a female CEO.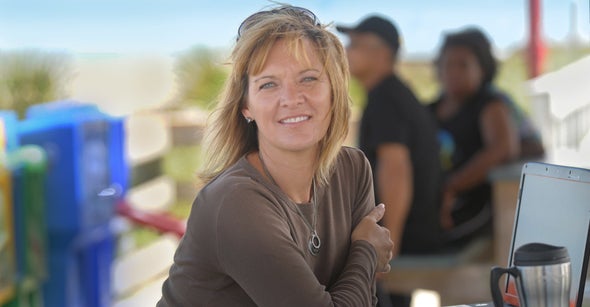 1. To start, could you tell me about your background and what you are doing now? Did you know you always wanted to work in this field?
I received my undergraduate degree in political science, and I had originally thought I would go into campaign management and speech writing. However, I took a break after college and I joined the Navy as it became pretty clear that it would be difficult to have a career in politics as a woman. I wanted to go into Naval Intelligence to challenge myself and for the weight it would have on my resume for the long haul.
I came out of the Navy changed. During my service, I was part of a sexual assault team which changed the trajectory of my career. I then started working with homeless veterans in Jacksonville and was appointed by the Governor of Kansas to spearhead work development. It was during this time that I realized if we teach people how to find the right job earlier in their lives, we would be able to save untold pain and suffering for individuals as well as money. Jobs for Florida Graduates was born through this notion. The stars aligned and I came across JAG. Shockingly, only 25% of students who enter college graduate in four years. This means that 75% of kids realize later they picked the wrong college and the wrong major. JAG is a year-long journey for high school students that is really all about these far reaching decisions. It's about who they are and how they want to impact the world.
I myself am on a personal moment of change, on the verge of something new and different. I am a strong believer in the seasons of life, and I feel that I'm in a new season. In regards to DreamJobbing, the students in JAG are knocking it out of the park and maximizing every opportunity we give them. It's amazing to see it firing it on all five cylinders, everything is working and students are reacting! The videos are so important. A resume is one-dimensional, but a video allows students to present themselves in 3D fashion. You're able to see their energy, skills, and vibes. For the high school age, this is huge. (JAG Florida DreamJobbing Videos)
2. I read on your website that you're an economic expert. Could you explain a little more about how education impacts our individual and collective economy?
Money matters. And money grabs attention. The thing about education and career development is that it not only affects the student on a personal level, but also affects our economy. It is beneficial for all of us to have the younger generation working and contributing in the area that best suits them. This impacts our collective economy, and also directly impacts one's personal economy- the decisions you make to commit a crime, or drop out, or get a degree in something that doesn't pay well- this affects all of us.
3. What has been the biggest challenge in your line of work? And how did you overcome it?

It's very difficult to try new things in an old system. I'm essentially asking principals in schools we work with to care equally, if not more than, about what happens to students after they leave the graduation stage. All of their training asks them to care about what happens while they're in school. (testing, etc.) It's a challenge to ask for funding for what happens once the students leave school.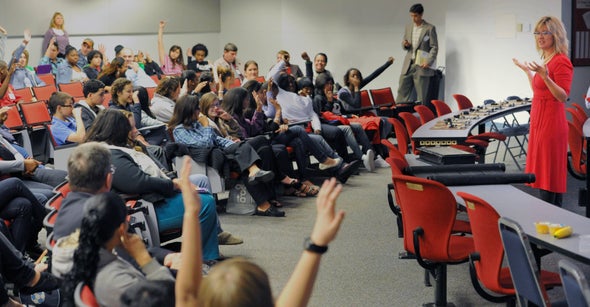 4. Many of our readers are interested in working in nonprofits. Could you shed some light on what your day to day looks like in this career?
Every day is different and every day is the same. I am always looking for funding opportunities, either corporate or government funding, to keep our program going and improving. Every day I'm also looking for potential partners. I am constantly thinking of how I can improve the services we are offering to kids in a meaningful way. And then of course, the mundane stuff in managing a company. As CEO, you are constantly working with employees, human resources, underperforming, illnesses, etc. It's important to build a healthy company for healthy employees.
Running a nonprofit is essentially running a business. "Nonprofit" is a tax status, not a management policy. I do everything a for-profit CEO does, but with full transparency and disclosure. As a nonprofit, tax payers are essentially saying I believe in you and I'm investing in you and therefore they do have a right to know that its working.
5. What is the best piece of career advice you have heard? Do you have any advice for our readers on creating their own opportunities and "dream jobs"?
"My decision, my destiny."
This tagline is one we promote at the Florida Endowment Foundation. It speaks to the importance of sitting down and thinking about you. We spend a lot of time thinking about the financial aspects of a career, but not enough time thinking I'm going to be doing this for 8-10 hours a day for many years of my life. And if I'm miserable, that affects my health and lifestyle choices. And quite frankly, you're not going to be a good spouse or parent if you're miserable at work. It is necessary (whether in high school or later) that you take the time to think whats next for me? Would working hard in this job give me pleasure? Where can I put my skills to use that would also make me happy?
"Me. CEO."
My Life, Inc. In this gig economy, you have to think of yourself as the CEO of your own mini corporation. Think of your employer as your customer, you're in charge of your own corporation and personal branding. And that will follow you later throughout life. You treat a customer different than a manager, by reframing your mind to think this way, you change the way you approach your life and work.
6. Do you have a favorite moment over the years? Something in this line of work that inspired you or filled you with joy?
Oh I have lots and lots. One that changed me as a person and our organization the most was an experience I had in a classroom a few years ago. We have a list of 32 barriers to success. Due to those barriers, you would commonly hear that our kids are "at-risk". While presenting to some of the students I work with, one female student took great offense to this. Her back story is that she had dropped out of high school and returned to complete her GED. She was only 17 years old and already caring for one child. She was so angry at me because she didn't define herself as "at-risk". And she was right, she was not someone who should be defined by that limiting word. She was chasing her destiny and her life.
After that moment, we walked away from those limiting labels (at-risk, disadvantaged, etc.) The fact was that her life is her life. She changed the way we speak about who we serve as an organization. She was doing her best to navigate around her barriers and thats GRIT. Anyone with any less fortitude may have given up entirely. But she got up every day and figured it out. This completely changed the messaging of the company and what as the CEO I will allow to be said about the kids.
7. Who inspires you and why?
My two daughters. It is so fascinating to watch them figure out the world. They are 12 and 13, and at a stage where everything is still possible with no preconceived notions of what the world wants from them. They want what they want and they're going to go try it. They're still in that special moment, before the world gets a hold of you. It's really inspiring to watch that.
Biblically, I've always been inspired by Mary Magdalene. Some of the women of the Bible that really were from a cultural standpoint on the outside. Biblical women like Ruth couldn't get a divorce or own property. But they didn't let these barriers stop them. They may not have had all the power politically or socially, but they exemplified using the power of internal abilities.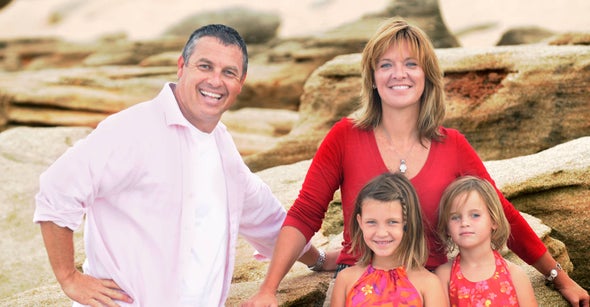 8. Reflecting on your career path, what has been your favorite aspect?
The best decision of my career path hands down was going into the Navy. I loved loved loved being in the Navy. My biggest regret is that I didn't stay in and retire. There aren't many other places where a 21-year-old girl without a college degree could be in charge of sailors. Being in the Navy gave me rocket fuel to my resume and life.
In regards to my current path, I am now in a new season. I am in love with what our mission is at JAG. We have made substantial investments and every day we are reaping more and more rewards from that. Our kids are taking advantage of every opportunity we are giving them, and thats exciting! New technology, new opportunities, and new partnerships. I am excited to see where we go next.
To learn more about Heather, visit: HeatherBeaven.com. To learn more about The Foundation, visit: flgraduates.org. For educational travel insight, visit Heather's blog QuestionBroadly.com.