Alison Levine is a world-class adventurer; she served as the captain of the first American Women's Everest Expedition, has written an enlightening book, is producing an inspiring film, and has simultaneously led a successful career in corporate America. Does it get more "DreamJobber" than that?
Mount Everest is one of the most dangerous, treacherous climbs in the world- so the lessons Alison shares are incredibly valuable and trusted. I love Alison's honest responses to our questions. Especially, regarding our society's attitude towards failure. She has worked hard to accomplish her dreams and create a life that will leave a positive impact on others. I am honored to share with our community this one-of-a-kind woman's story.
1. What do you do for a living?

I work as a keynote speaker and deliver about 100 speeches a year, so I am on the road more often than not. My speeches focus on the lessons I learned while serving as team captain of the first American Women's Everest Expedition; so the topics mostly focus on leadership, teamwork, and how to survive in extreme environments that are constantly shifting and changing. I also work with the Thayer Leader Development Group at the United States Military Academy at West Point which is an executive education program that shares West Point leadership best practices with corporate executives. This career allows me the flexibility to do what I really love -- which is spending time in the mountains with friends, or on a trail somewhere with my husband and my dog.
2. You live an extremely interesting career and life. Could you give us some insight into your background? Where did you grow up? What were your childhood dreams?
I grew up in Phoenix, Arizona and was the middle child in between an older and younger brother. I didn't really have any childhood dreams. I was more about living in the moment and had lots of hobbies; I rode horses, was involved in student government at school, did community theater, took karate lessons, music lessons, played sports, etc. I wanted to do everything and try everything. I had FOMO before FOMO was "a thing."
3. When and how did you decide that you wanted to climb Mount Everest?
I really did not ever think I would climb Everest. Although I thought it would be amazing to take a shot at that mountain, I didn't really have the time (it takes two months, not to mention all the training leading up to the climb), and I definitely did not have the money. But then a group of women contacted me and asked me if I wanted to serve as the team captain of the first American Women's Everest Expedition, and even though I did not feel as if I were entirely ready for something like that -- I realized that there was only going to be one first American Women's Everest Expedition, and if I didn't step up to the plate to be the team captain, someone else was going to do it...and then someone else was going to be living my dream adventure! I think there are times in your life when you just have to step up -- even of you feel like you aren't ready. I ended up getting a two-month unpaid leave of absence from my job and also landed the Ford Motor Company as a sponsor. Next thing I knew I was on a flight to Kathmandu. Never say never!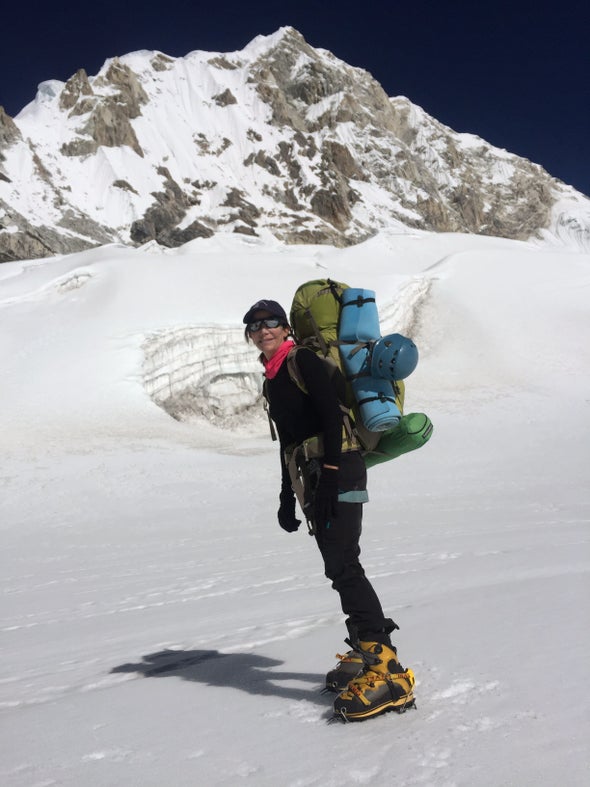 4. Regarding your book On the Edge, what are the greatest life lessons you can share with us that were inspired from climbing Everest?

The lessons about failure-tolerance are the most important lessons in life. I really beat myself up when we returned from the Everest expeditions in 2002. We missed the summit by less than 300 feet, and we were all pretty bummed out. We had a lot of media coverage because we were the first team of American women to make this attempt, and then we didn't get to the top, so it was a pretty high-profile failure. It's hard coming back and facing the media, your friends and the climbing community when you've failed to do what you set out to do. It took me eight years before I could get up the guts to try again because I was so afraid to fail again. And then of course I did make it to the summit in 2010, but only because I had that failure under my belt from 2002. That previous experience may not have had the outcome I wanted at the time, but it sure taught me a lot about my pain threshold and my risk tolerance and it gave me more confidence on that summit ridge the second time around. When it's an 8,000ft drop on one side and a 10,000ft drop on the other side, you better be pretty confident about what you are doing up there. If I had not had that failed attempt to learn from, I am not sure I would have made it to the top in 2010. We need to be more failure-tolerant in life, because if we are too afraid to fail, then we're going to hold ourselves back from achieving our true potential.
5. Can you shed some light on your film The Glass Ceiling? What inspired you to create this project?

The Glass Ceiling (www.theglassceilingmovie.com) is a documentary about Pasang Lhamu Sherpa, the first Nepali woman to climb Mount Everest. I first got involved with the film when the director, Nancy Svendsen, asked me if if I would be willing to be interviewed as part of the film. I was of course thrilled to be asked to appear in the film, but once I met Nancy and realized how passionate she was about telling Pasang's story, I knew I had to get more involved. Pasang is one of my heroes. She was incredibly passionate about climbing and had been actively pursuing the sport since she was a teenager, but was denied the opportunity to climb Everest simply because she was a woman. A true trailblazer who battled racism/sexism and defied political leaders in her quest to become the first Nepali woman to summit the world's highest peak, she eventually shattered the age-old barriers that had prevented Sherpa women from climbing. Not one to back down, Pasang made three unsuccessful attempts to get to the top of Everest, and with each failure she came back even stronger on her next climb. Her determination finally paid off when she made it to the summit on her fourth try in 1993. But tragically, Pasang did not make it back down the mountain...she died of exposure on the descent. When Nancy Svendsen (the film's director) approached me about making this documentary, I couldn't say no, because the world needs to know about this incredible architect of change who inspired an entire nation. Nancy is a former McKesson executive and has left corporate America in order to focus on the film full-time, and we are determined to make sure Pasang's story gets told.
6. What is your main motivation?

We are all on this planet for such a limited amount of time. I want to make sure my time is spent in a way that will have a positive impact on the people I care about as well as those who follow in my footsteps long after I am gone. I can do that through my speeches/lectures, my writing, and through film. I can also do it by spending time with people who are important to me.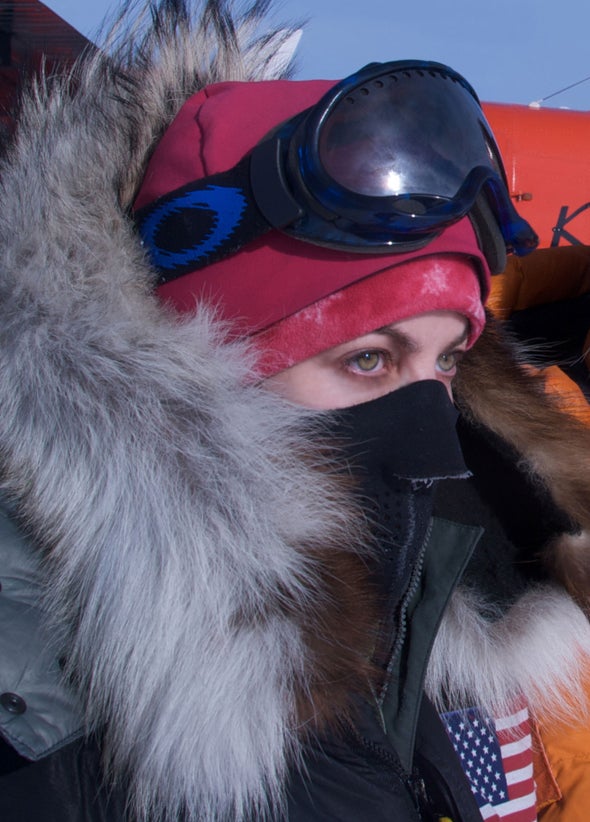 7. What is the worst career advice you've received?
Do what you love, and the money will come.
What about the best career advice?
Don't rely on others to look out for you.
8. What is the toughest thing you've ever done?

600-mile ski traverse from the edge of the Antarctic ice shelf to the South Pole. It was in 2008, and it still hurts when I think about it.
9. Who is your inspiration and why?

Pasang Lhamu Sherpa, who is the subject of The Glass Ceiling. She was someone who just refused to give up on her dream no matter how many people doubted her or belittled her. I am a lot like her in the sense that I am not the fastest or strongest climber, but I can still get to the top of a mountain because I am resilient. My other inspiration is my husband (corny, I know). But he is one of those people that everyone knows they can count on all the time. He is the guy who always comes through for people. That's the most important thing in life -- being there for others. He is incredibly selfless (and handsome...just sayin'...).
10. What is your advice for young people who want to get past their fears?
Get off of Instagram and Snapchat and go out and do things that you aren't sure you will be good at. You will learn more about yourself than you will by taking selfies every three minutes. Real life has no filters.
11. What is your goal for yourself in the future?
I have two (as of now :-)). I am starting a clothing company which I can't talk too much about yet, because we are still in stealth mode, but I think it could really revolutionize the way people shop for themselves and the way they think about fashion. Then my other goal is to rescue older Labrador retrievers that are 9+ years old. I just want to snatch them from shelters and foster care and spoil the sh*t out of them for their last few years. I want them to have THE BEST LIVES as they get closer to going to doggie heaven. I can't wait to just have 5 or 6 labs around me all the time. I feel like I was put on this earth to love dogs. My lab is turning 9 this year. I can't imagine my life without him. If you are reading this and you have never owned a dog, GO GET ONE. It will change your life.